FM20 real names fix. Fix fake name of competitions, clubs and awards with their real names in Football Manager 2020. Fix works with your current FM 2020 saves.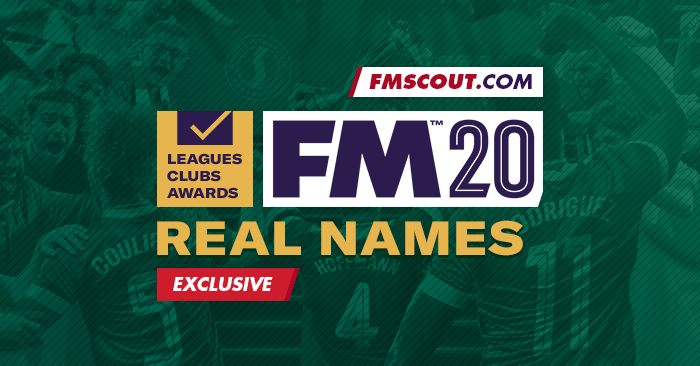 DOWNLOAD
Welcome to Real Names License Fix for Football Manager 2020 by FM Scout. This is an extremely comprehensive name fix that first appeared here since 2013.
FM20 Real Names Corrected
All playable clubs names from all continents
All major leagues names
All non-playable Europe Top Leagues club names
Almost all minor leagues names
All Continental, National and National Cups names
2020 Name Fix Preview
How to fix fake competition and club names in FM 2020
Quit the game (if it's open).
Extract the contents of the pack you downloaded from here to a temporary location. You'll need them for step 6.
Find the 2001 folder.
Windows:
\Program Files (x86)\Steam\steamapps\common\Football Manager 2020\data\database\db\2001\
Mac:
/Users/[username]/Library/Application Support/Steam/steamapps/common/Football Manager 2020/database/data/db/2001/
Open the lnc folder and then enter the all sub-folder.
Delete all files you can find in there, particularly the following 3 files:
fake.lnc
lic_dan_swe_fra.lnc
nleague.lnc
Move FM20 Fix by FMScout.lnc and FM20 Club Names by FMScout.lnc inside this all folder.
Go 2 folders back to find the edt folder.
Open it and then enter the permanent sub-folder.
Delete the file "fake.edt".
This will fix Niko Kovač from getting renamed to Max Freund, and Oliver Kahn from getting renamed to Jens Freund.
Again go 2 folders back, this time to find the dbc folder.
Delete the following 3 files:
zebra award.dbc
zebra turin fake staff.dbc
zebra turin new.dbc
This will fix Juventus from getting renamed to Zebre and prevent fake staff for them.
Now enter the permanent sub-folder.
Delete the following 4 files:
brazil_kits.dbc
forbidden names.dbc
Licensing2.dbc
Licensing2_chn.dbc
This will prevent Brazilian clubs from reverting to 3-letter names and will allow certain kits to be visible again.
Open the game and enjoy Football Manager 2020 with real names.
IMPORTANT: The fix for Juventus and Brazilian clubs can only take effect with a new save because dbc files affect the saved game when it's first created.